You can do something in Bhutan generally inadvisable elsewhere in Asia: inhale deeply.
This tiny Himalayan kingdom, squeezed between notoriously smoggy India and China, is said to be the only country in the world that is carbon negative, meaning that its forests are able to absorb more carbon dioxide than is emitted. Forests cover over 60 percent of this land and are sacred, as are mountains, rivers, and the earth. The population is small (about 800,000), but the power of nature is enormous. Humans know their place.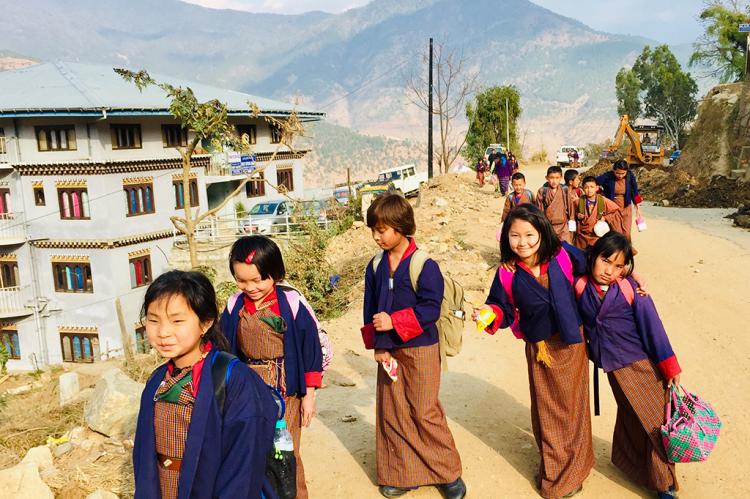 If you want to build a house, you must first ask permission of the earth. Tourists are required to be contributors rather than plunderers and are charged a daily fee of up to $250, although accommodations, meals, museum fees, transportation within the country, and an English-speaking guide are included. High end, low impact. The riffraff can go to Nepal. Of the tariff, $65 goes toward the country's free education and health care, also known as a "happy tax." And happiness is something the Bhutanese take very seriously.
Measuring its wealth not by dollars, exports, or deficits, Bhutan famously replaced its G.D.P. with a G.N.H., or gross national happiness, index — aiming to balance economic prosperity with deep contentment and the spiritual wellbeing of its people.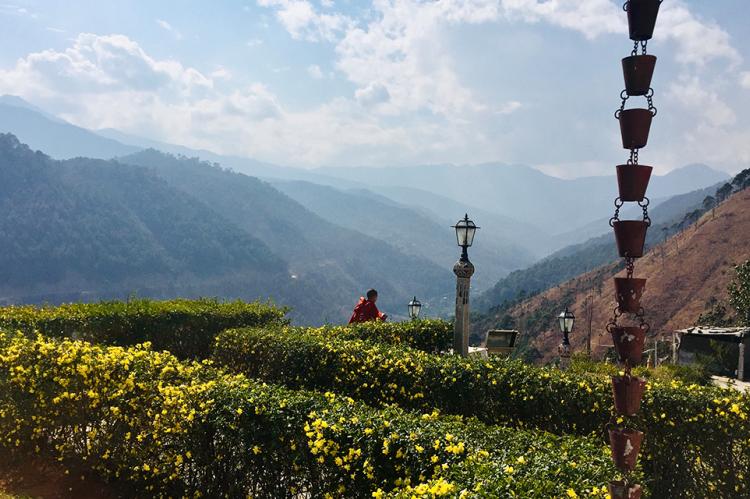 There are other eccentricities afoot. This is a country that was closed to foreigners until 1974; a country where the first television arrived in 1999 but that issued a postage stamp in 1984 with Donald Duck and Mickey Mouse seated in front of a TV; a country whose national basketball team is training for the Olympics despite few of its citizens standing over 5 foot 8 inches; a country whose most revered figure is an oversexed monk who proclaimed his penis was a "flaming thunderbolt"; a country with the only capital city in the world with no traffic lights.
My weeklong trip to this unique, bizarre, fascinating, beautiful, generous land of the thunder dragon was in the hands of Tandin, my guide, and a driver named Karma — especially auspicious given that most of Bhutan's serpentine roads appear to be hacked into the sides of mountains. On each corkscrew bend, signposts in punctuation-challenged but life-affirming language reminded drivers of certain hazards: "Bro Be Mr. Late not Late Mr."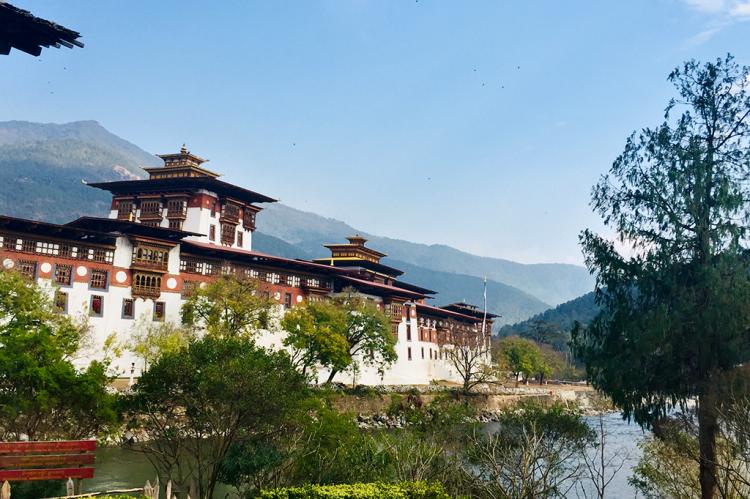 As a voice on the local radio station read the daily national astrology report, Tandin informed me, "You are now family, and it is our duty to our king to look after you. So please relax and enjoy the views."
And what views . . .
We trekked through emerald-green meadows, yellow, terraced rice paddies, and stopped at crystalline rivers that snaked through valleys and fields. Yaks grazed on high mountain pastures, and from a sunlit clearing we stared at Everest's snow-capped peaks, the high Himalaya whose vast embrace has preserved this, a medieval time capsule of the world's last Buddhist kingdom, for millenniums.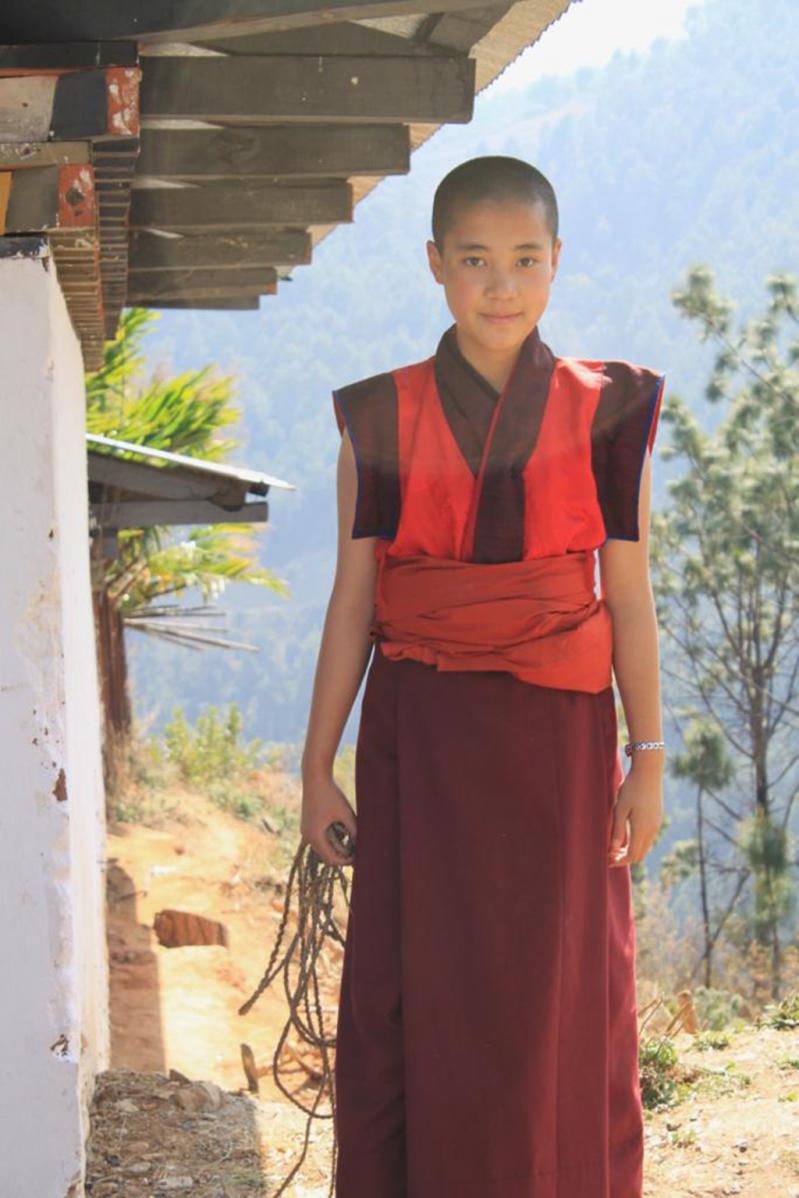 In the courtyards of gilded Dzongs — part fortress, part monastery, and part town hall — monks in crimson robes scurried by as we circled intricately carved prayer wheels. In a rural house adorned with giant phallus paintings on its walls (a good luck charm), I sipped yak-butter tea, which was like having a gallon of oil poured down my gullet. Amid mighty forests draped in moss, and in the valleys and across bridges and mist-covered hills, colorful prayer flags, known as wind horses, fluttered in the breeze, whispering to the dead and the living.
This is a landscape believed to be the manifestation of the divine. Of course it is.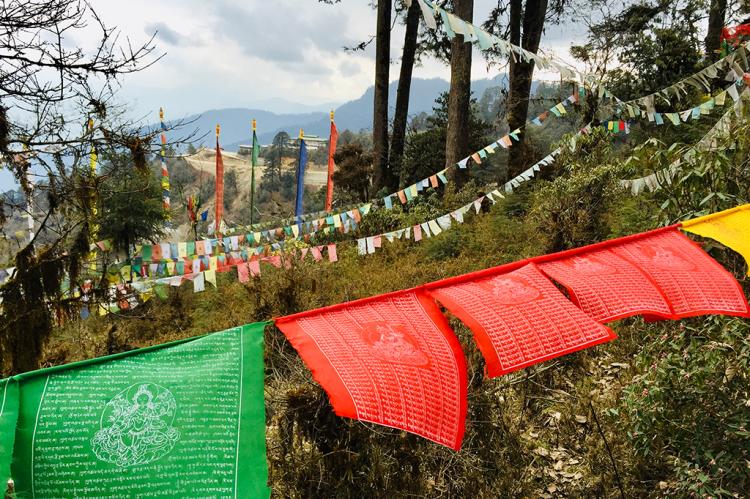 On our ultimate trek, we climbed 10,000 feet to the famous Tiger's Nest. Built in 1692, it's the country's most sacred monastery, impossibly barnacled to a jagged cliff. On the ascent, which takes about three hours through noble pine forests, we looked out for snow leopards but found only devious monkeys who threw acorns at us and then scampered away.
Up close, the temple is sublime. Through a labyrinth of dark hallways, we came upon the main hall and smaller prayer rooms. We stopped in a dim, incense-filled room, where a young monk in ruby-red robes, sat cross-legged on a window seat, chanting in a deep mesmeric murmur, a pair of cymbals on his lap.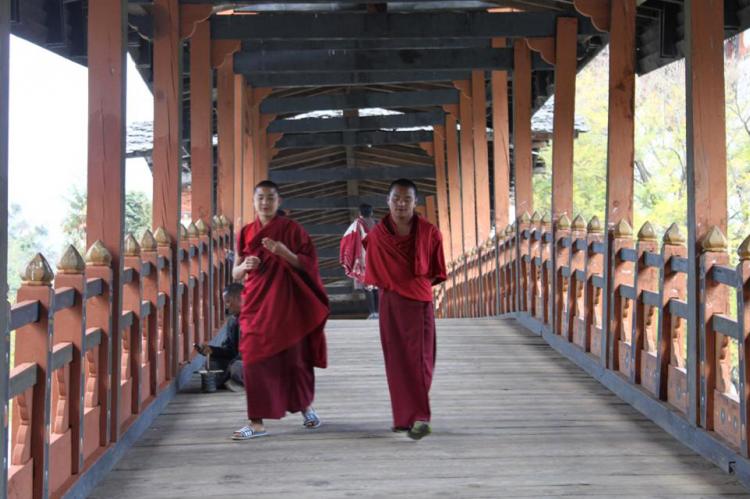 Between chants, he clapped the cymbals. Everything disappeared from my mind except that room, that monk, and his chanting. I time-traveled back 10 centuries. Then, I heard a familiar trill. The monk pulled a sleek smartphone from under his robes, took the call, had a leisurely chat, then put it away and continued praying.
This ancient temple, believed to be anchored to a rock only by the hair of a monk, had better cell reception than parts of East Hampton. And yet, the modern world felt very, very far away.
---
Audley Travel: https://www.audleytravel.com/us
Druk Air: https://www.drukair.com.bt
Taj Tashi: https://www.tajhotels.com/en-in/taj/taj-tashi/
Amankora: https://www.aman.com/resorts/amankora