Tamara Espinosa Bravo never liked the idea of limits, she said, and "the sky doesn't have limits." So the East Hampton High School graduate spent her junior and senior years in a two-year aviation course for high school students.
Kyle Fordham has a need for speed, and has loved dirt bikes for as long as he can remember. The Pierson High School graduate completed a two-year marine and automotive mechanics program.
A career in the music business sounded like the perfect fit to Kwame Yirenkyi, so the Bridgehampton High School graduate studied recording technology in a specialized program on a campus more than an hour from home.
Their success stories are indicative of a growing trend among South Fork high school students — and students nationwide — to pursue career and technical training as an alternative to the traditional high school path. On Long Island, programs like those offered by the Board of Cooperative Educational Services, BOCES for short, meet the needs of these students. Public school districts contract with BOCES to take advantage of shared services that run the gamut from technical training to special education programs and even business needs for administrators.
"Some of our kids are just not the traditional, in-the-classroom from 7:40 a.m. to 2:50 p.m. kinds of kids. They're hands-on kids," said Samone Ritz, a guidance counselor at East Hampton High School. "They need a little more than just sitting at a desk, and they find tremendous success at BOCES."
Kyle, who will go on to the Motorcycle Mechanic Institute in Florida later this year to get certified as a specialist for Honda and Yamaha bikes, said BOCES really motivated him.
"I'm not really a 'books' kind of kid. I've never been able to really take a test. There was really nothing for me," he said. But the more he does hands-on work, "the more I learn." Now, he's a certified small-engine mechanic and is already working at a local golf course. He's the go-to fix-it guy among his friends, and has even built and rebuilt his own motors.
Kyle said he feels kids in the career and technical programs — often overshadowed by kids taking honors classes — don't get recognized for their hard work and achievements.
"He's been wanting to do this his entire life, ever since he got on a quad, then graduated to a dirt bike," said his mother, Tara Fordham. "I couldn't be more proud of him for getting there by himself. I feel a little emotional, though, because he's going to Florida. It's far. But he's going to be doing what he loves."
BOCES students often step right into jobs.
"We get calls from marinas to say, 'Hey, do you have any kids who have gone to BOCES because we'd love to hire them,' " Ms. Ritz said.
And many also go on to college. There's often a misconception that kids taking career and technical education classes don't go on to two or four-year colleges, she said.
Kwame will study arts and entertainment management and possibly even entertainment law at Pace University. He said his foundation in the audio recording program at BOCES is invaluable.
"Having BOCES on my résumé and application and in my college essay showed not only am I passionate about this career, but I'm also willing to put in the work and dedication and get the education needed," Kwame said. "That's what schools are looking for. That's what helped me get so many scholarships and financial aid to go to Pace."
Going to BOCES meant sacrificing time at Bridgehampton. He had to drop out of band and marimba classes, leave during the middle of his math period, and couldn't take electives he wanted to take, like photography and culinary arts.
"But there was definitely more gain than loss," he said.
Tamara, for whom English is a second language, will go on to Suffolk Community College and hopes to transfer to Stony Brook University. She will continue studying aviation, as well. A member of the BOCES National Technical Honor Society and an Honor Roll student, Tamara was also nominated by Assemblyman Fred W. Thiele Jr. for the Presidential Scholars program.
She said BOCES helped her focus and take school more seriously, and grow socially and academically.
"If someone wants to go to BOCES, it doesn't matter which program you choose. Just do it," Tamara said. "Sometimes people would be jealous about my decision to do BOCES, and try to make me feel less than or not capable, but it is important to ignore that and follow your passion. At the end of the day, it's only about you and your goals in life."
Bridget Sokolowski, another East Hampton High School guidance counselor, said BOCES tailors its programs to the needs of local industries.
"They just put in the physical therapist aide program, drone technology, computer science. There are all these different programs that are based on needs that they'll build," Ms. Sokolowski said. "They have the flexibility. They're outside of New York State curriculum. It's not based on a Regents exam."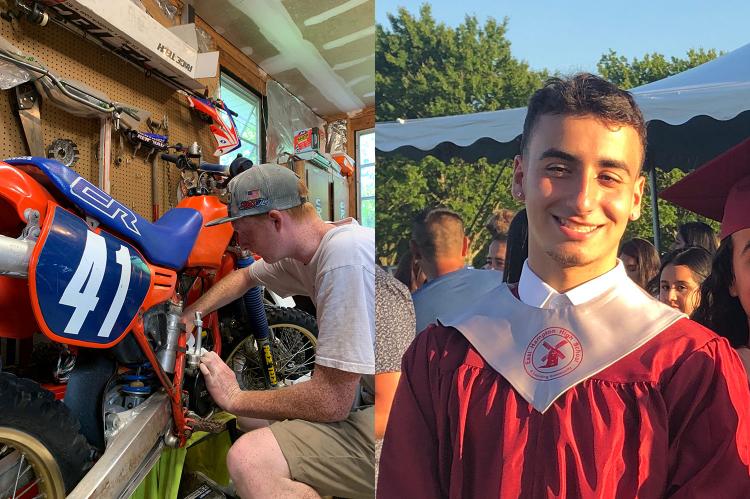 Kyle urged his friend Hunter Hansen to enroll in BOCES. Hunter chose the one-year personal fitness program and graduated as a certified personal trainer. He works as a lifeguard at Main Beach and has enlisted in the Navy.
"I loved it. It was great," Hunter said of his BOCES experience. "I felt like I learned a lot. There were a lot of people skills that I'll definitely be able to use, and it was a lot more hands-on. There was some note-taking, but not too much."
Morning BOCES programs often require students to wake up extra early — some board buses as early as 6:30 a.m. to head to campuses in Bellport, Riverhead, or Islip. That was the case for Hunter, who got back to Pierson around 11:20 each day and could still take part in sports, unlike some of his BOCES peers who took afternoon classes and got  home too late.
"I think I learned more. The way I was taught was a lot better," Hunter said. "My teachers specifically were very into teaching every kid. My teacher, Jonathan Audiino, would work with you. He treated you like you were almost an adult, but not yet."
Brian Damm, another East Hampton graduate, endorsed the BOCES marine and automotive program.
"It helped my academic career by keeping me focused on my projects and learning new tech [skills] and watching and helping the other kids," he said. "I loved being able to learn by actually doing the work, not reading about how to do it."
According to Applied Educational Systems, a for-profit developer of career and technical curriculums, 95 percent of students in career and technical programs graduate from high school —  outpacing the national traditional high school graduation rates by about 10 percent. Programs like BOCES would have kept 81 percent of high school dropouts in school, according to the company. It reports technical and applied science students earn $2,000 to $11,000 more annually than those with bachelor's degrees, and predicts by 2022 there will be nearly 50.6 million job openings in technical fields.
For Joshua Herrera, an East Hampton High School graduate, BOCES was a lifeline that helped him "beat the odds." He enrolled first in the marine and automotive program, and later switched to electrical engineering.
Joshua is now OSHA certified and has a full-time job in his field, which he really likes. It helps him support his family — "it's just me, my mom, and my sister," he said.
"I like working with my hands," he said. "Without BOCES, I wouldn't be working where I'm working right now, having good pay, and just knowing in the future I'm hoping I can do some work in my own house. I want to put in some cool lights."