The driver thought he had hit a deer, he told East Hampton Town police, but when he got out of his car on East Lake Drive in Montauk Saturday night he was shocked to see it was a man.
The man, Kevin P. McDonough of New Canaan, Conn., 25, who had been walking with traffic in the northbound shoulder, had been drinking, police later reported. He was struck from behind by John C. Corwith's 2008 Chevrolet pickup truck at about 10:30 p.m. Pedestrians are supposed to walk against traffic.
The impact sent Mr. McDonough into grass on the shoulder. The accident occurred about 250 feet north of Prospect Hill Lane, in an area that is not lighted.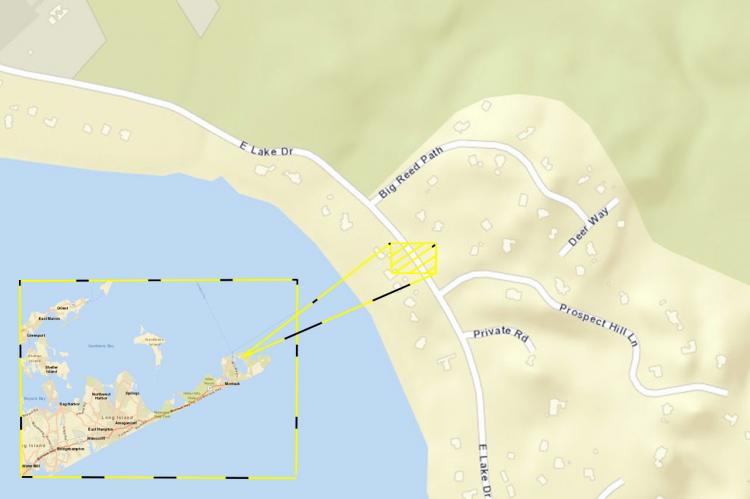 Montauk Fire Department ambulance personnel treated the man, who was conscious and complaining of back pain, at the scene, and transported him to East Hampton Airport, where a medevac helicopter flew him to Stony Brook University Hospital, the closest level-one trauma center.
Police listed the apparent contributing factors as "pedestrian error or confusion" and "alcohol involvement." Mr. Corwith, 47, of Water Mill, was not injured. He was issued a ticket for not having a valid inspection sticker.
Earlier on Saturday, at about 3:40 p.m., a two-car accident on Town Line Road at Wainscott Main Street snarled traffic on a back road. Susan Macy of Sagaponack said she was stopped at the intersection's stop sign when a 2018 Jeep crashed into her 2011 Audi. She told police the Jeep's driver, who was turning left onto Main Street from Town Line Road, was going too fast. Jeremy S. Duggan of Huntington said Ms. Macy had moved past the stop sign, causing him to strike her Audi.
Mr. Duggan, 25, had a minor laceration on his right thumb, the accident report said. He refused medical attention. Ms. Macy, 67, was not hurt. Both vehicles were towed.
A woman driving without a license was injured on Sunday evening in an accident on Three Mile Harbor-Hog Creek Road, near Richardson Avenue in Springs. Douglas John Newby of Sag Harbor said was re-entering the road after stopping his 2005 Subaru on the southbound shoulder, but did not see an oncoming 2016 Jeep. The Subaru hit the Jeep's front passenger side at 6:22 p.m., police said.
Maria Yanes, 42, of Hampton Bays was taken to Stony Brook Southampton Hospital after complaining of pain in her arms and hands, as well as pain from the seatbelt, the accident report said. Police gave her a ticket for unlicensed operation of a motor vehicle, a violation.
Mr. Newby, 60, and his two passengers, including an 87-year-old woman, were not injured. Both vehicles were towed.
Last week, a motorcyclist may have fractured his leg in a 5:15 p.m. crash on Town Lane in East Hampton. F.L. Lopezfigueredo of East Hampton was riding a 2010 Triumph on July 24 when, he told police, a 2019 BMW sport utility vehicle in front of him abruptly slowed down to make a left onto Pine Close. He said the S.U.V. did not signal before the turn. He applied both brakes, but was not able to slow the bike down and went into the opposite lane, where the bike struck the BMW on its driver's side.
Teresa Ann Scardino-Remez, 26, of North Palm Beach, Fla., who was driving the BMW, said she could not remember whether she had signaled. She did not hear the motorcyclist approaching, she told police. She was not injured.
The East Hampton Village Ambulance Association took the motorcyclist to Stony Brook Southampton Hospital.
A four-car pileup on Cedar Street, East Hampton, on July 22 sent a woman to the hospital. Town police said a 2014 Audi, driven by Oliver K. Stanton of Purchase, N.Y., had rear-ended a 2014 Toyota, which hit a 2016 Hyundai from behind, which in turn hit a 2019 Chevrolet. Walter K. Peterson of Mattituck, the driver of the Toyota, told police he was stopped in traffic behind the Hyundai, driven by Eileen Obser of East Hampton, when the accident occurred. Ms. Obser stopped before she was pushed into the Chevrolet, with Michael J. Martin of Montclair, N.J., at the wheel.
Mr. Martin was trying to make a left turn into a driveway. One of his five passengers, Latashia Vauss, 29, complained of abdominal or pelvic pain and was taken to Stony Brook Southampton Hospital.