Brianne Goutal-Marteau, a three-time Grand Prix runner-up at the Hampton Classic Horse Show in Bridgehampton, said, as she was preparing to take her 2-year-old daughter, Clea, into the Grand Prix ring to be judged by Joe Fargis Sunday morning, that the leadline division, in whose sections 2-to-4-year-olds and 5-to-7-year-olds compete, was "the most important class."
Asked why, Goutal-Marteau, who rides at Bright Side Farm in Water Mill, and who hopes to ride Viva Colombia, a 14-year-old German warmblood, in Sunday's $300,000 Grand Prix, said, "This is where it all begins, where they get their first taste of competition and are questioned and judged by Joe Fargis, a riding legend, though they don't realize it."
And the footing in the Grand Prix ring was good, was it not, this writer said, referring to a recent almost-$1-million drainage makeover the two-acre premier grass ring had undergone within the past year.
"It's amazing," Goutal-Marteau said. "Firm and soft at the same time. I'll be riding on it this afternoon [in the $30,000 Land Rover Jumper Challenge] with another horse, Hallelujah."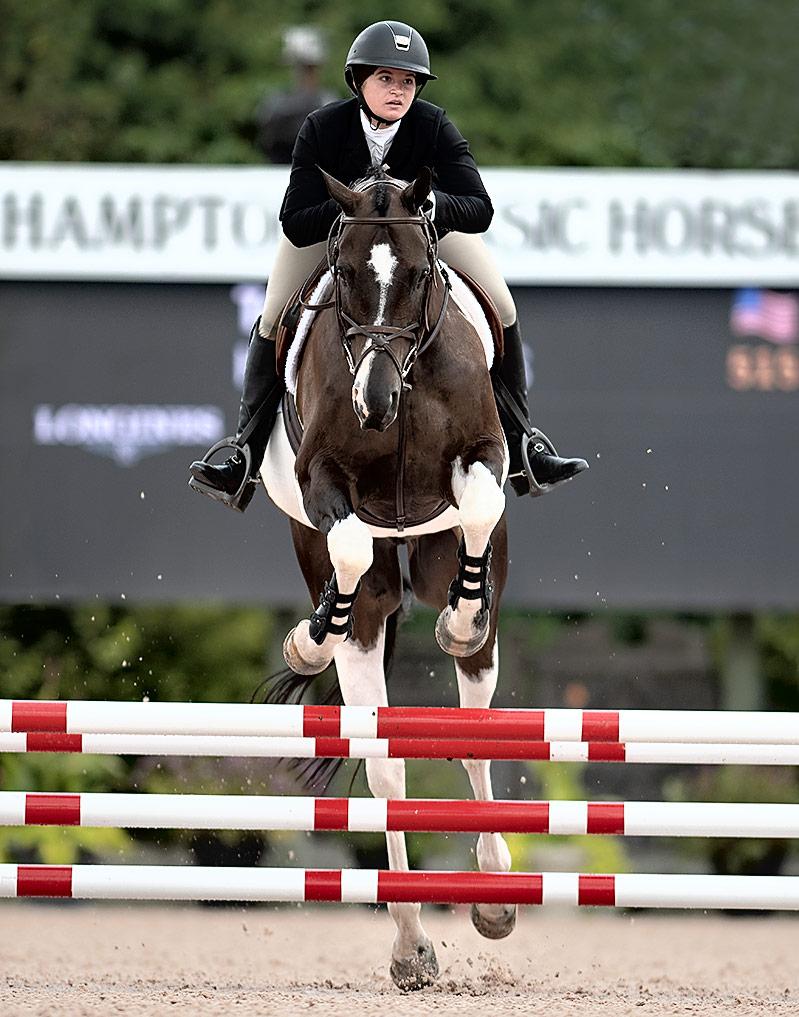 Clea was one of 42 entries in the 2-4 leadline division whose four section winners were Ian Luca Roman of Wellington, Fla., on Buttons and Bows; Evelyn Davis of Bridgehampton on Turning Point; Althea Rose Berkhoffer of Montauk on Ironwood's Prestige, and Gemma Sydney Klein of Bridgehampton on Shenandoah Emperor.
The section winners in the 5-7 leadline division were Chloe Wassong of Water Mill on Strawberry Fields; Meridian Ising of New York City on Fancy Pants; Margot Whalen of Sayville on Junior Mint, and Kendall Coleman of New York City on Lolli Pop.
Ian Luca Roman, who's 4, was led around the ring by his Beach Acre Farm trainer, Christina Muse, a native of East Hampton who learned to ride herself when she was 4, at Pheasant Run, "down by the railroad tracks."
Wassong and Ising, both 7-year-olds, are protégées of Joanne and John Paul Jimenez at Two Trees Stables in Bridgehampton. Ising, who was led by Joanne Jimenez, pumped her fist on learning she would receive a dark blue ribbon from Natalie Mattson, the owner of Brennan's Bit and Bridle. It was John Paul who pumped his fist when Wassong, whom he led, was declared the winner of her section.
"This makes two in a row for her — this kid has a lot of talent," John Paul said of Wassong once they'd returned to the all-weather warm-up area, where parents and relatives and trainers were celebrating with their young charges, all of whom received blue ribbons that day.
As for the Grand Prix ring's makeover, Shanette Barth Cohen, the weeklong equestrian extravaganza's executive director, said recently that, beginning last October, the field was dug out to a depth of six to eight feet, perforated drainage piping was installed and stabilized, and the subsurface was layered, first with gravel, and then with a sand, fiber, and soil mix before being graded in the shape of a turtle's back for optimum drainage before being topped by sodded Kentucky bluegrass.
"Mario and Lucy Deslauriers tested it a month ago, riding and jumping, and they were thrilled. The riders are very happy. During the show last year the field was very challenging because we'd had so much rain last summer and very high temperatures. It wasn't just here, but throughout the Northeast. Golf courses and sports fields were similarly affected. The water was sitting there with no way to drain and it was so wet and so hot that the roots were being cooked."
The decision had been made by the show's board, Barth Cohen said, to continue with grass, which is much preferred by Grand Prix riders, rather than switch to an all-weather surface such as the Classic has in its Grand Prix warm-up ring and in its Jumper Ring-2.
"There are fewer and fewer grass rings around the world now — some, but not as many as there were. I think for a person who doesn't ride they might not notice the difference, but the riders will, and the horses too. And once the word gets around, we'll probably attract even more people than we have in the past, people who show horses in F.E.I.-sanctioned competitions, which have stricter rules. Five of our classes this year are F.E.I. classes with international ranking points in play. . . . If the grass tears away, the base is excellent. It's state of the art."
With competitions tailored to leadliners and Olympians, the Classic was, said Marty Bauman, its publicist, "one of a kind — the premier horse show in the country." All the classes would be shown live throughout the week, he said, on hamptonclassic.com.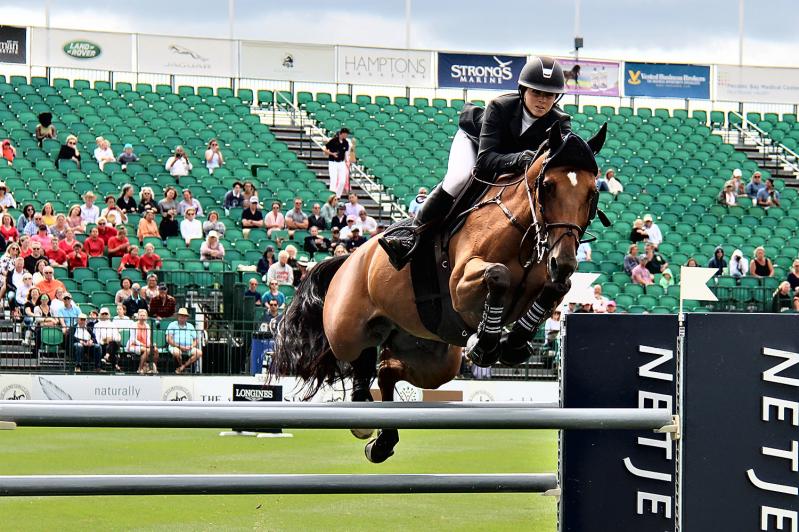 Adrienne Sternlicht, on Starlight Farm's Fantast, won Sunday's main event, the $30,000 Land Rover Jumper Challenge, besting a fellow American, Molly Ashe-Cawley and Berdien, by four one-thousandths of a second in the jump-off — 63.661 seconds to Cawley's 63.665.
Seven in the field of 29 starters made the speed class's jump-off, and Sternlicht had the advantage of seeing several others go before she and Fantast did. "He has great foot speed," she was to say afterward, so much so, she said, that she could "add a stride through the turns and still know that I'm getting across the jumps. I tried to play to those strengths and leave out strides were I could."
The winner praised the "consistency" of the new surface, as did her fellow riders.
"It felt like jumping on a tumbling mat!" said Peter Leone. "There was life and spring to it — it's so exciting to ride on a field like this."
"It was perfect," said McLain Ward, who has won the Grand Prix here seven times, more than twice as many times as any other rider. "Absolutely spot-on. Not a single blade of grass was out of place."
In another class on Sunday, Cathy Zicherman's True Story ridden by Holly Orlando won the $10,000 Marders Local Hunter Derby, winning out over HH Casey Jones and Geoffrey Hesslink 91 to 90. Nancy Marder Banfield, her sister, Sue Marder O'Connor (who, on Zerlando, was the Local Hunter Non-Pro Over Fences runner-up), and Sarah Horowitz presented Orlando with the $3,000 winner's check.
Others in the ribbons on opening day were Forever, ridden by Orlando, Whisper, ridden by Orlando, Prince of Thieves, ridden by Laura Bowery, Epic, ridden by Phoebe Topping, and Chinou, ridden by Gretchen Topping.
Isaiah Forte and My Fairy Tale Hero, Julia Glenz on 5th Avenue, Kylie Long on Reade, Sophie Baghdassarian on the Devil Wears Prada, Noah Capps on My Fairy Tale Hero, and Joe Penzel on Sincerity were winners in the Long Island Horse Show Series for Riders With Disabilities finals Monday.