Face of the Franchise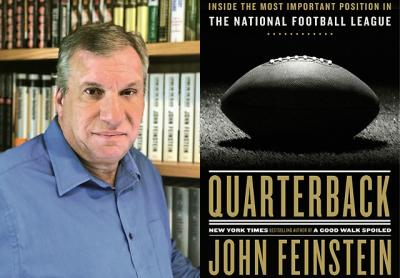 Christine Bauch Feinstein
Finding a capable quarterback is an exceedingly vexing and inexact science
"Quarterback"
John Feinstein
Doubleday, $27.95
The consensus in the National Football League that a team goes nowhere without a franchise quarterback is treated as gospel today more than ever. Billion-dollar franchises are leveraged on finding a star quarterback, seasons may be intentionally lost to get into position to draft one, and the care and feeding of such quarterbacks once they arrive in town tends to eclipse all other franchise business.
Nothing gets a coach and general manager a contract extension — or run out of town — like whether they guess right on their quarterback.
But as history has repeatedly shown, finding a capable quarterback is an exceedingly vexing and inexact science, even in this age of sophisticated analytics and draft science in which college players are scouted, poked, prodded, and psychologically tested for months.
The tension in all of those colliding forces makes for a terrific, and timely, idea for the latest book that John Feinstein has chosen to write. And the five quarterbacks that Feinstein, a longtime homeowner on Shelter Island, has chosen to spotlight are well chosen: Andrew Luck, Joe Flacco, Alex Smith, Ryan Fitzpatrick, and Doug Williams aren't the most famous choices he could have made, but they are apt picks because of the different footholds they occupy on the N.F.L. quarterback spectrum. 
Feinstein has made a career out of deep-dive looks at sports topics dating back to his 1986 blockbuster, "A Season on the Brink" (still the best-selling sports book of all time), and he does a capable job here of rendering what these men's existence is like, and the overheated context in which they work. 
Early in the book, Flacco, the Baltimore Ravens' longtime quarterback, could be speaking for all of them when he says, "The criticism comes with the territory."
"Even when it's not your fault?" Feinstein asks.
"It's always my fault," Flacco answers.
Luck, who has had a promising but injury-plagued career with Indianapolis, represents the can't-miss star. Flacco is the small-college find whose physical skills — starting with a howitzer arm — overrode scouts' concerns about whether he could navigate graduating to stiffer competition. The day Flacco fell in the draft to Baltimore, team executives literally jumped up and down celebrating in their draft war room.
Ryan Fitzpatrick — sometimes jokingly called FitzMagic by his peers today — is a journeyman, the first Harvard QB ever to start an N.F.L. game, and Feinstein shows how at times Fitzpatrick was shadowed by his lack of pedigree, even when he had career-best years. Alex Smith is the hard-knocks guy who was drafted number one over all by the San Francisco 49ers in 2005, and then embarked on a fitful career marked by big expectations, injuries, and repeated wholesale coaching changes that inhibited his development until he connected with the quarterback whisperer Andy Reid in Kansas City. Smith's teams frequently win, yet he's constantly criticized for not being flashier.
Doug Williams, the first African-American quarterback to win a Super Bowl, is the launch point for how racism and prejudice were prevalent when he broke into the league in 1970s. The N.F.L. teams he played for never tried to switch him to a different position. He even quit football for a spell rather than accept a lowball contract extension from Tampa Bay until a coach who believed in him — Joe Gibbs — brought him back into the league and they embarked on their title run after Williams lost his 26-year-old wife to a brain tumor, leaving him to raise their 3-month-old daughter alone.
Along with acquainting readers with each man's personal story, Feinstein lays out the context and overarching issues any N.F.L. quarterback faces along the way: the unsentimental front-office types who treat quarterbacks as disposable objects even when they do succeed; the reliable fickleness of fans that skews toward irrational; the brutal physical toll the game extracts, and the disconnect between how quarterback is a "dependent" position — "Linemen must block, receivers must run precise patterns and make catches while being crushed by defenders," Feinstein writes — and yet, if things go wrong, the quarterback becomes the "fall guy."
Feinstein provides some fine anecdotes that illustrate his basic premise that "There is no position in sports more glamorous, more lucrative, more visible, more high-risk. In thirty-two cities, the quarterback carries the hopes and dreams of millions of fans and is the centerpiece for the media that covers every N.F.L. team." The story of how Smith once found two paycheck envelopes left in his locker and mistook one of them for $1,000 — not his $1-million signing bonus — until he was nearly at the bank teller's window shows the credulity-bending world and life changes pro athletes sometimes go through.
Smith says, "I arranged for direct deposit after that."
But what the book doesn't succeed at is breaking more new ground by, say, providing a more sophisticated look at the modern intricacies of what is often called the most difficult position to play in sports. And that's a shortcoming. 
Readers don't come to a Feinstein book expecting stylish prose, they expect deep reporting. A great deal of what he writes here, starting with the boilerplate quotes that frequently make their way into print, will not be revelations to avid N.F.L. fans. "Quarterback" is better suited to fans looking for a breezy read or a greater acquaintance with the N.F.L. and the challenges, ethos, and perseverance it takes for these men to continue to survive in a Darwinian world that's gotten more Darwinian over time.
John Feinstein is a journalist, broadcaster, and author of 35 books, including "Caddy for Life" and "A Good Walk Spoiled."
Johnette Howard is an author and former senior writer at Sports Illustrated, ESPN, and The Washington Post. Her work has been collected in eight anthologies, including David Halberstam's "The Best American Sports Writing of the Century."