Hey Kids! Prepare to Be Amazed . . .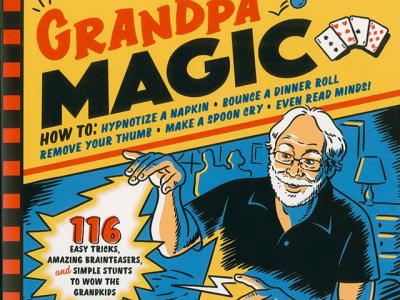 A guide to tricks grandparents can perform for entertainment and bonding
Not to sound all moralistic, but Allan Zola Kronzek opens his introduction to "Grandpa Magic" with a paragraph on the value of old-fashioned magic in breaking a particularly harmful kind of spell, that cast by ubiquitous electronic devices. 
"Use counter-magic!" he writes. "Change a fork into a knife, pull coins from thin air, shove a drinking straw up your nose, turn your napkin into a chicken. That will do the trick, trust me. In fact, it could even lead to some genuine human-to-human interaction."
And thus this book — a guide to tricks grandparents can perform for entertainment and as a way to bond with kids over secrets shared, all mixed with magic mentoring for the young. From Workman Publishing, it retails for $16.95.
Mr. Kronzek lives in Sag Harbor and has been around forever, in the good sense of the phrase. So you haven't been around forever? Then you might know him from his million-selling "The Sorcerer's Companion: A Guide to the Magical World of Harry Potter." He'll stay in his home village for an appearance at Canio's Books on Dec. 7 at 5 p.m., which means not just the usual signing and talk, but a magic show.
And now your faithful correspondent will do his own disappearing act, and yield the floor to Kyle Hilton for one of his charming illustrations from the book.
Allan Zola Kronzek will sign copies of "Grandpa Magic" at the Romany Kramoris Gallery in Sag Harbor on Sunday, Dec. 23, at 2:30 p.m.