Truth be told, I have done very little fishing of late. I'm not quite sure why I have pulled back from dropping a line, but it has been almost a month. Perhaps it's the classic summer doldrums. Hot weather combined with little wind can make for some uncomfortable conditions, even on the water. Many come down with this affliction at some point during the dog days of summer.
I am still doing my weekly run to tend to my lobster traps, but even there, the good spring run has petered out quite a bit, as the lobsters have moved into shed mode and are not on the feed. Still, I am landing enough for a dinner or two.
I've actually been more enthused over the run of blue-claw crabs — many of them true jumbos — that is currently taking place in many back coves. I have four traps, but I'm only fishing two of them as I'm capturing more than I can personally handle. It is more labor intensive to clean crabs than to clean lobster, but the reward is a much sweeter and more tender meat. How long the catch will continue is unknown, but I'm building a nice cache in my freezer for future consumption.
Crustaceans aside, the calendar reminded me that it was time to get back on the water, grab my rod and reel, and partake of the 19th annual Mercury Grand Slam tournament last weekend out of Montauk. It's an event my friends and I have participated in since its very first year. Held at Uihlein's Marina, it's always a good time, with a rather mellow atmosphere compared to some other tournaments, where some serious money is on the table and where lie detector tests are standard to actually prove your fish was legit. That's a bit much for my speed.
Fishing once again in the charter/professional division with Capt. Richard Etzel of the Breakaway, we ended up breaking our two-year losing streak by chalking up a win by late Sunday afternoon. Over all, the fishing was good this weekend, with plenty of fluke up to eight pounds caught, as well as a solid showing of sea bass up to four pounds. Our largest striped bass tipped the scale at 33 pounds, and we landed a hefty bluefish around the 11-pound mark. With a point system for each species, the largest of our fish caught and weighed in took our team to the winner's circle.
I don't know what we actually won, but win or lose, we all shared plenty of good laughs during the two days at sea. For me, there is nothing better than good camaraderie, no matter the stakes at hand. In that sense, everyone is a winner.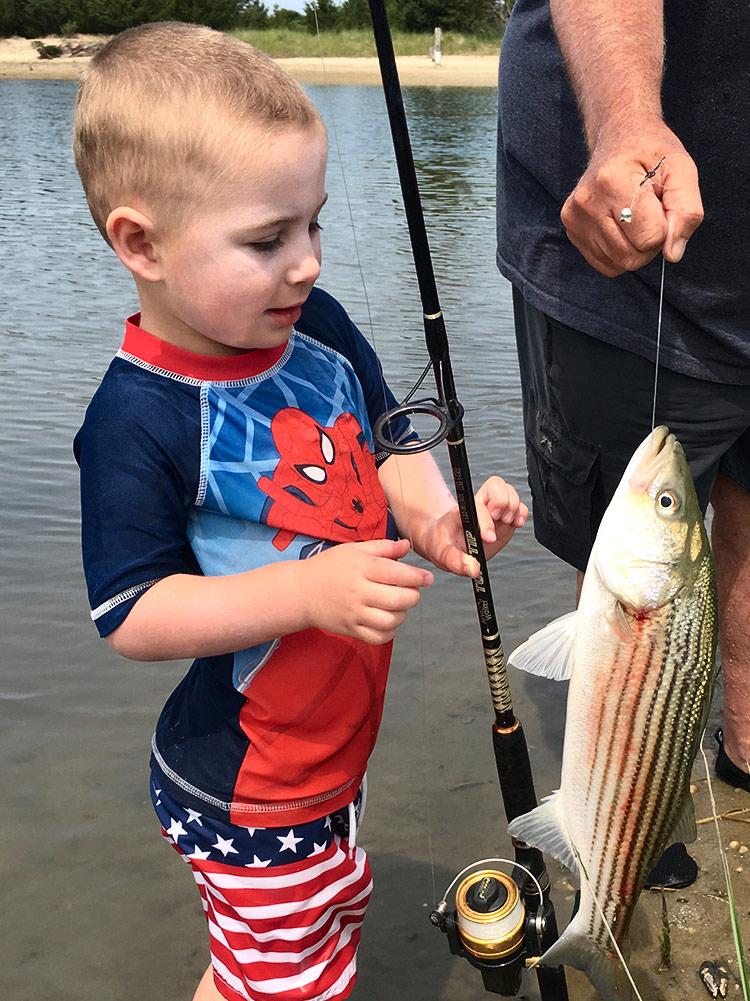 Others at Montauk also had good fishing. Capt. Hugh Chancey of Chancey Charters has been burning candles at both ends so to speak with his fares fishing for fluke and sea bass during the day, and then another crew fishing for striped bass under darkness.
"Fishing has been really good on both fronts," said Chancey, who has had little sleep of late. "We've had fluke up to 10 pounds and the bass have been pushing the 50-pound mark." On Saturday, I can attest that Chancey's downeast craft, which drifted near us on the Cartwright grounds six miles south of the Montauk Lighthouse, scored well with several large fluke that found the landing net.
"Bass fishing has been good, but it has not been a consistent bite," said Capt. Michael Potts of the Montauk charter boat Blue Fin IV. "They will bite hard for an hour and then stop. And then they will be on the feed at another spot." Potts added that the action for porgy, fluke, and sea bass has been good as well.
The veteran skipper said that he had a fare on Saturday who was the owner of a sushi restaurant. "I love sushi and will slice some up every few days on the boat," he smiled. "But he did a great job with a few porgies and a fluke that were delicious." That's some truly fresh fish.
"Been some really nice sea bass taken off of Napeague and the back side of Gardiner's Island of late," remarked Harvey Bennett of the Tackle Shop in Amagansett. "Big fluke are also in the same areas." He said that striped bass are roaming the various ocean beaches and are mixed in with bluefish.
"Porgies are just about everywhere and the blowfish are still thick in Three Mile Harbor," added the 13th-genera
tion Bonacker. "Big stripers are off Montauk and many are using live eels and live porgies for bait. Lots of fish to near 50 pounds have been landed."
Despite the hot weather, Bennett said that the freshwater action is still strong for carp and largemouth bass. Want some fresh calamari for dinner? Bennett said that the Navy dock in Fort Pond Bay at night is the place to put in your order.
"Blues and weakfish are in Noyac Bay and at Jessup's Neck," said Ken Morse at Tight Lines Tackle in Sag Harbor. "Porgies are all around the harbor area taking clams, worms, and squid. Bigger stiped bass are at the Race."
Want a chance to see some whales from shore? Sightings have been frequent from Hither Hills all the way westward to Cooper's Beach in Southampton. Humpbacks and finbacks have put on quite a show of late.
---
We welcome your fishing tips,
observations, and photographs at 
[email protected]. You can find the
"On the Water" column on Twitter at
@ehstarfishing.