Last weekend's heatwave reminded me why I went to college in Buffalo and not to the palm-fringed campus of the University of Florida. It wasn't just for the education, but also to enjoy the snow, bitterly cold winds, and to play ice hockey as much as I could. Sounds weird, eh?
Perhaps it's my Russian background, but I enjoy the cold. To stay warm, I can put on as many layers and don a close-fitting tuque to keep my head from losing body heat. I know I can always find the right balance of clothes to wear. On a frigid day, I may resemble the rotund Michelin man, but I'm also warm and toasty, looks be damned. 
But dealing with the searing sun and jungle-like humidity is another matter altogether. I melt rather quickly. Other than cranking up the air-conditioner in the living room, lowering the shades, and watching some stale reruns of "Deadliest Catch" or "Wicked Tuna," there's only so much you can do to stay cool. Going outside, even for a few minutes, was a sweaty chore.
For lack of better judgment, I decided to check my lobster traps on one of those days when I just should have stayed indoors. It was brutal to be outside, even on the somewhat cooler water.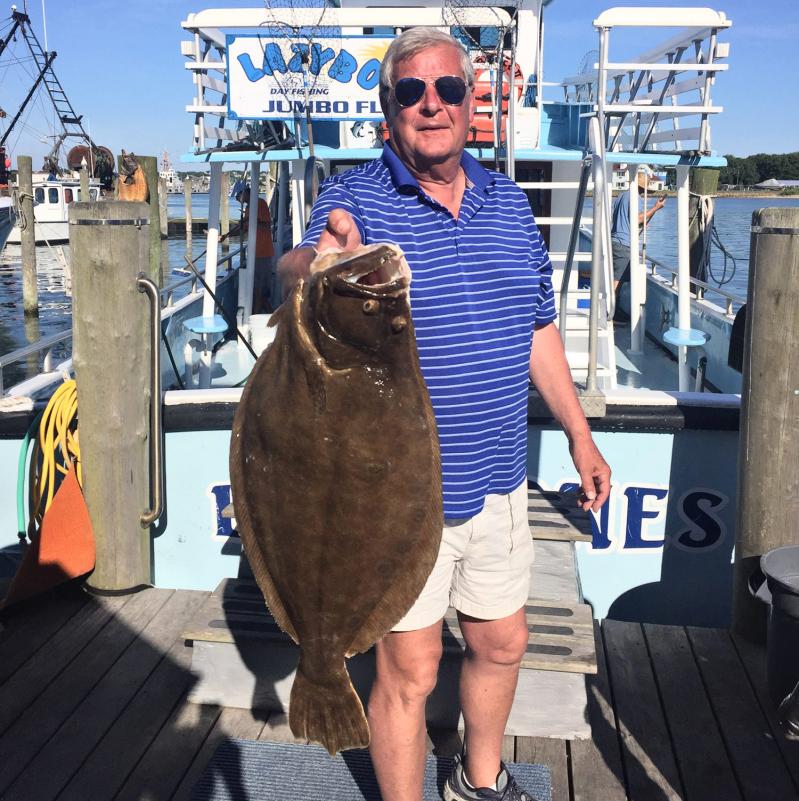 The southwesterly breeze at the beginning of the trip had completely dropped off by the time I approached my first buoy. Not good. Deciding to stay in my flip-flops rather than putting on my bulky fishing boots was a smart move, but I still wore my orange, waterproof bibs, which only helped trap my body heat. I felt like a damp rag in a microwave oven. There was no escape.
I have no pot hauler on board, so pulling up the first eight traps by hand was exhausting. They were devoid of lobster. A frustrating start as I mopped my brow. It was clear that even the lobsters were off their feed and feeling the summer doldrums down below. 
Heading back to the cabin to check the location of some nearby underwater boulders on my GPS, I glanced over to my left at the fish finder. I was stunned by what I saw. The water temperature gauge read 75 degrees. The week before it was 69, which for that time of the year is very high. But since keeping records of my catch since 1997, I had never witnessed a water temperature above 72 degrees. In fact, there were only seven other years where I recorded water temperatures over 70 degrees. It was plain crazy.
If I had any slight doubts of climate change, they completely evaporated during that hot sunny day. I have to assume that the water temperature will only increase, as we have yet to even reach August. Eighty degrees is a distinct possibility. At that point, I would not be surprised to see the lobsters hauled up in my traps cooked to a brilliant red shade. At least that would save me the trouble of steaming them back home in my kitchen. Drawn butter anyone?
Jokes aside, such warm water is not conducive to productive lobster catches, recreational or commercial. Like me, lobsters do better in the cold. I ultimately retained five keepers that day, but it was my worst catch in three years. I will probably keep the traps in the water for another week or so before pulling them out for the season.
Given the temperature reading I witnessed on my fish finder, it's hard to believe that better catches are ahead as the weather continues to heat up. For me and my crustacean friends, hotter is not better.
Speaking of hot, it's a word that can easily describe the action offshore. The Viking Star ventured off for another trip to the deep late last week and its anglers were rewarded with a plethora of fish, including tilefish, yellowfin and bigeye tuna, barrelfish, pollack, hake, and swordfish. 
"All in all, it was a slammer trip," remarked Capt. Steven Forsberg Sr. Due to the great fishing, the veteran skipper has added several more offshore trips to the upcoming schedule. Game on.
Closer to shore, sharks, including mako, thresher, hammerhead, and blue, have also been caught, some in sight of the Montauk Lighthouse. For those casting bait from the ocean beach, brown and sandbar sharks have begun to make their presence felt for catch-and-release action.
"Fluke fishing is picking up nicely," relayed Capt. Jamie Quaresimo from the bridge of the Miss Montauk II late Sunday afternoon. "Conditions are a huge factor in whether we have a good day or a great day." Quaresimo added that sea bass have been a nuisance of late. "They are everywhere we go," he said. "It's crazy that the regulations state we can only keep three fish per person."  
"Hot weather equals hot fishing," said a fired-up Harvey Bennett of the Tackle Shop in Amagansett. "Fluke and sea bass are solid at Napeague and east of Gardiner's, and the porgy fishing has been really good as well. But for some reason, other than small snappers, the bluefish have thinned out of late."
Bennett added that blowfish, also known as bottlefish, are thick at the Navy Dock in Fort Pond Bay and in Three Mile Harbor, while stripers can be had at Napeague. Like blue claw crabs? They are on the crawl big time in Accabonac and Three Mile Harbors.
The 13th generation Bonacker reminded me that he is still on the hunt for baseball equipment, clothes, and school supplies, as he continues his quest to help underprivileged children in the Dominican Republic. "The response this summer has been good so far, but I can still use quite a bit more," he said. "I hope to ship out a few boxes in the next few weeks."
"I've weighed in a bunch of large fluke of late," said Sebastian Gorgone of Mrs. Sam's Bait and Tackle in East Hampton. "The largest was 12 pounds and was taken near Montauk." Gorgone said that porgy action remains fierce and that blowfish and small snappers can be had in Three Mile Harbor. "Plus, there are some small stripers in the surf."
Commercial fishermen received some good news and some bad last week. On a positive note, the New York State Department of Environmental Conservation increased the daily commercial limit for fluke to 280 pounds, a fourfold increase that may change again in a few weeks' time. Stay tuned. 
On the flipside, the black sea bass season was closed (recreational anglers can still retain a measly three fish per day over 15 inches). The commercial season will reopen on Sept. 1 with a 50-pound daily limit, hardly worth the effort to target them. Both sides of the fishing community in New York continue to receive the short end of the stick when pursuing this popular species, which by every known study, is overly abundant. 
When the scales of justice will be balanced is anybody's guess, but tempers are reaching a boiling point over the continuing inequity: Nearby states, including New Jersey and Connecticut, have significantly higher quotas and a longer season. Something's gotta give.
---
We welcome your fishing tips, 
observations, and photographs at 
[email protected]. You can find the 
"On the Water" column on Twitter at 
@ehstarfishing.