'Who Gets to Call It Art?" is a sprawling collage of a film. Made in 2006, it has a style not unlike the era it covers, jerky and jump-cut with a groovy garage band soundtrack.
Following a preamble of talking heads, it announces quite suddenly that it is a paean to Henry Geldzahler, a curator responsible for a revolution in how stodgy old-line museums like the Metropolitan Museum of Art came to terms with contemporary art.
After serving several years there and as the New York City cultural commissioner, Geldzahler retired to Southampton to devote his time to writing and independent curatorial projects until his death in 1994. He is buried in Green River Cemetery in Springs, the last home of many influential 20th-century art world figures.
At a screening of the film at the Southampton Arts Center on Aug. 25, a panel of old friends and current art world tastemakers discussed his legacy. Moderated by Holly Peterson, a producer, journalist, and novelist, the group included the Met's current director, Max Hollein, and the film's director, Peter Rosen. In addition, Bob Colacello and Jane Holzer, friends of Geldzahler and Andy Warhol, added their personal remembrances. Lisa Dennison, the chairwoman of Sotheby's North America and South America, brought perspective from the current art market.
The film covers a time, from 1960 to 1970, when, as the dealer Ivan Karp said, "the same several hundred people were at every opening." Art, particularly in the post-Abstract Expressionist years, was still intended for a very small sector of the population. Pop Art, the emerging style as Geldzahler began his career, gave art a more general appeal, which resulted in its dismissal by the avant-garde establishment.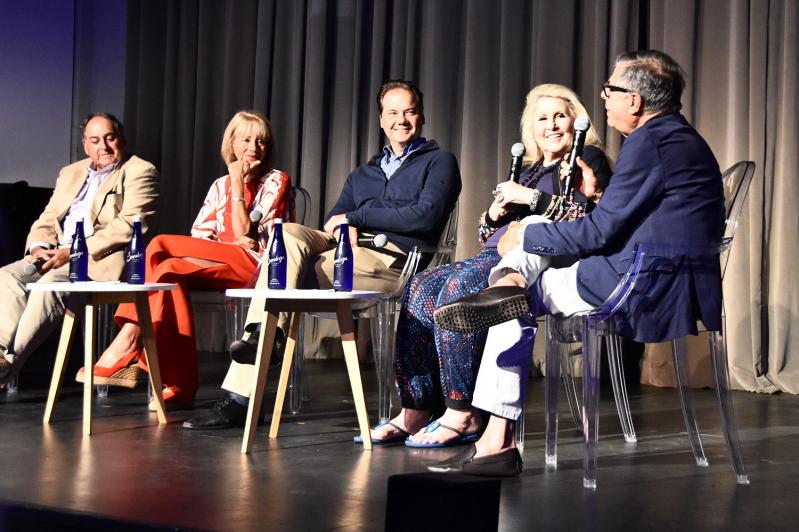 Clement Greenberg, a major critic during the rise of Abstract Expressionism, called Pop "minor stuff" in footage the film borrows from Emile de Antonio's 1972 film "Painters Painting," which emphasized the earlier New York School while including some of the young turks of the era such as Frank Stella, Jasper Johns, Larry Poons, and Robert Rauschenberg.
Rauschenberg in particular summed up the younger generation's impatience with the art world's elders when he said, "You have to have time to feel sorry for yourself if you're going to be a good Abstract Expressionist," in a clip that was also included in Mr. Rosen's film.
The younger artists made work brimming with an energetic optimism that marked the 1960s. Geldzahler, who was hired by the Met in 1960, took on the art world as an avid observer and eager participant. David Hockney said in the film that Geldzahler "had a special eye. He saw talent immediately and wasn't wrong about anything."
He met and befriended many artists, reaching out to them in their studios as well as their galleries. As part of their social circle, he was also a participant in some of their films, "happenings," and performance pieces.
Mr. Hollein noted that Geldzahler initially turned down the Met's job offer because he wanted to work with artists who were alive. He credited the curator with expanding the reach of contemporary artists within more staid institutions, particularly through his groundbreaking exhibition "New York Painting and Sculpture 1940 to 1970." In the years that followed, and especially more recently, the institutions have committed to show more work by people of color and women.
The panelists said that the art world today is larger and more inclusive, but also more complicated. Ms. Dennison applauded the film's reach in terms of the question "Who Gets to Call It Art?" as it touched on the "whole food chain" of artists, dealers, curators, critics, collectors, and auction sales. She pointed out that each era brought its own arbiter of taste. "Right now, the power isn't held by the curators the way it was at that moment in time or in the late '50s, when it was the critics like [Harold] Rosenberg and Greenberg, or when I was a curator it was kind of the artists, and now it's a little bit more dealer and market driven."
She cited Jeffrey Deitch, who has spent the past few decades at the center of the art world as a dealer, adviser, critic, and curator. In 2007, at the height of the art market, his view was that "today's generation of collectors gets their knowledge of art history not through the Alfred Barr model of walking through MoMA chronologically, but through the 60 lots of a Sotheby's or Christie's sale, Albers to Warhol, A to Z." 
"The truth of the matter is the auction houses, and the market and the dealers, have become this huge force, which has created a porousness of boundaries between the transactional side of the art world and the nonprofit side of the art world," Ms. Dennison said. This shift has led galleries, museums, and auction houses "to try to steal each other's mojo and take the best from each to create a whole new world order."
Mr. Hollein added that the new models still allowed for a multiplicity of voices. "It's good that you have this more complex network of different platforms wherein these narratives expand and get more complicated."
Mr. Rosen made the film as a result of his visits to the East Village when he as at Yale. A niece of Geldzahler's proposed that a book be written about him, but Mr. Rosen thought a book was too limited compared with the visual possibilities of film, so he decided to make a documentary about the Pop artists as seen through Geldzahler's eyes.
Many of the people included in the film were typically reluctant to be interviewed, he said. "They're not looking for publicity, and it's very hard to get to them. As soon as we said it was a film about Henry Geldzahler, it completely changed. It became 'Tell us what we
can do.' "
The artists he spoke with felt they would be nowhere without him.