Touch of Old England in East Hampton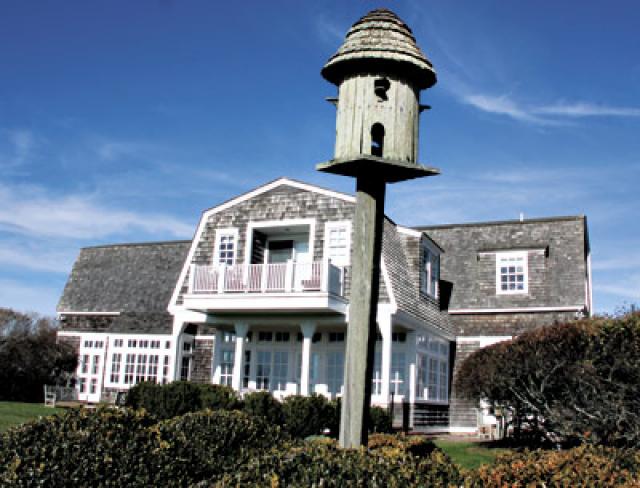 Did Anne Boleyn take shelter under these beams?
    This is not the stuff of an international incident. The Kent County Council has enlisted no Conservative Party M.P.s in an effort to repatriate historic English artifacts. But should anyone across the Atlantic seek redress of grievances for the missing post-and-beam structural skeleton of the Anne Boleyn family barn, they will certainly log some air miles.     For the past quarter century or so those beams have been supporting a gambrel house of long, sloping roofs and many shingles on Georgica Pond in East Hampton — 25 years, a blink of an eye, really, in the life of a pile of wood dating to 1520.     "This was the barn across the moat from Hever Castle," the lady of the house, Kari Tiedemann, said the other day. "Anne Boleyn's father, Sir Thomas Boleyn, who became the Earl of Wiltshire and Ormond, lived there. The castle is where Anne Boleyn fled to when Henry VIII was trying to win her over." Politely put indeed. And the rest is Anglican history?     "Carl bought these beams in the early 1980s," she said of her husband, Carl Tiedemann, who once ran the Wall Street firm Donaldson, Lufkin & Jenrette. "Every beam and post and joist was numbered so it could be reassembled. Today it wouldn't be allowed out of the country. Barns were being torn down then. Just one of the weird things that happened in the '70s."     The ghosts can rest easy. All those posts and beams, roughly hewn some 500 years ago and showing adze strikes still, have a suitable new home, an unpretentious second home resembling a hunting lodge, what with its ample wood paneling, stuffed game birds, paintings of foxes and hounds and fly-fishing streams, fireplace just right for a curled-up English spaniel, and suggestive of cigars, snifters of brandy, long guns propped in a corner.     "I was born in England," Ms. Tiedemann said, a trace of an accent discernible in her pronunciation of words like "again." "I've lived half my life there," she said, noting that she keeps an apartment in London yet. "I met Carl only 10 years ago." When she first set foot in his East Hampton house, she could be forgiven a sense of deja vu. By outlandish coincidence, she is a descendant of the Boleyn family.     "Through my mother, I descend from Anne Boleyn's great uncle, William Boleyn of Norfolk." Anne Boleyn, of course, before her failure to produce a male heir for Henry VIII, before her incarceration in the Tower of London on trumped-up charges of treason, adultery, and incest, and before her beheading, produced a daughter, "Elizabeth I, England's greatest queen," Ms. Tiedemann said. "Though Queen Elizabeth II is close; she's wonderful."     Ms. Tiedemann spoke while showing a visitor past the era-appropriate Tudor-style paneling that sections off the great room from the rest of the house. She made a loop through a dazzling sunroom with a dining table and views of the lawn, moors, Georgica Pond, and Georgica Beach beyond. Then it was on to the kitchen at the rear of the house, where one finds a center marble-top counter in white and French doors giving onto a brick patio.     "We live for comfort and not to have to worry," she said, half apologizing for the sensible kitchen. New beams in the ceiling there echo the ancient ones a couple of rooms away. "It's a very lived-in house, nothing too chi-chi. We have dogs and grandchildren come through."     Other visitors can take their own self-guided tours on Saturday from 1 to 4:30 p.m. by way of the East Hampton Historical Society's benefit house and garden tour. Dubbed "A Ramble Along the Coast," it will take guests through this and four other residences, from the Frank Lloyd Wright-inspired to the Shingle Style. The cost is $65 in advance, $75 the day of. It all begins with a cocktail party tomorrow from 6 to 8 p.m. at Jack and LuAnn Grubman's, which also is at Georgica. Tickets to the party and tour cost $200.     "Now, these beams," Ms. Tiedemann said as she looked around the great room. "I would've had the area between them much lighter" — they're beige — "just so they pop out a bit more. That's what the Brits do."     Throughout the room, antique tools are hung between the beams. "Carl collected those because there were no walls to put pictures on. We found the cast-iron chandeliers in England. They suit the space."     The tour continued upstairs, where a cozy sitting nook with a couple of comfortable chairs, bookshelves, numerous wood-carved sandpipers, and, yes, the ancient beams, overlooks the main room. Down the hall is where color comes in: One guest room is done in wall-to-wall sky blue and flower paintings. "It's simple, tranquil. Kid-proof. We didn't call in the court decorators or anything."     "It's not a huge house," Ms. Tiedemann said on the way to the widow's walk, accessed through a skylight that can be propped open as a door. "You can see all the houses from up here, Steven Spielberg's, Calvin Klein's old house — it's now his ex-wife's, of course." Also visible were a dozen swans, a mass of phragmites — and all of Georgica Pond, which the point of the Tiedemanns' land appears to divide, almost like the prow of a ship.     Elsewhere on the grounds, between the house and water, is a garden. "It has a very wild feel. The deer eat everything, so we use deer-resistant plants, nepeta is one." Tucked to one side, a pool house has been engulfed in vines and ivy.     On the opposite side of the property, near the driveway, clematis climbs the walls. "It flowers, too," Ms. Tiedemann said. "The garden here is quite pretty in summer. . . . There's much lichen around. The sea air. It's understated throughout."     Ah, that's the English way.